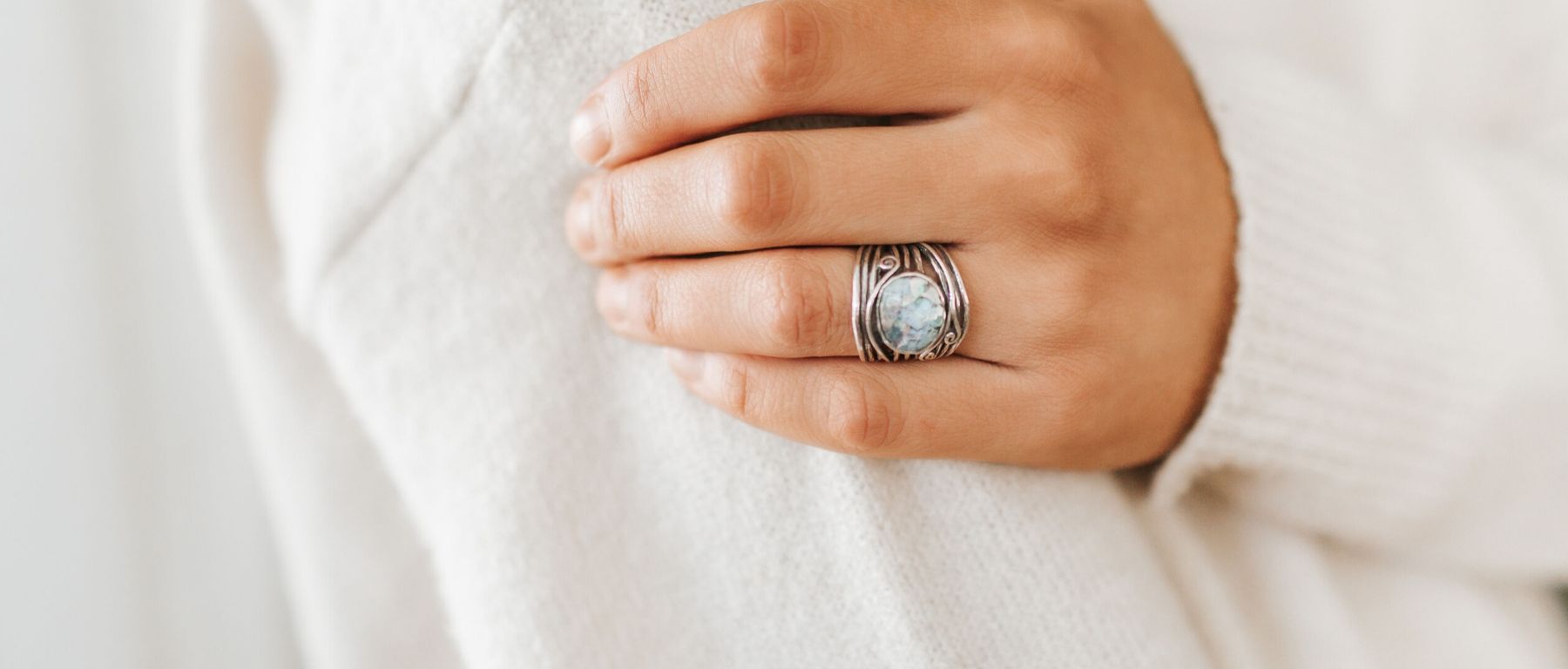 925 Sterling Silver Rings
Sterling silver rings make a statement. Silver is timeless; sterling silver is timeless and durable.  That's because sterling silver is 92.5% silver combined with other metal (mostly copper). It wears less and looks great. Sterling silver is fantastic on women; men like it too. (That's right, men, jewelry isn't just for the ladies!) But we don't have to tell you that men, jewelry, and sterling silver go together; every man's wish list, gift list/ wedding registry, and personal collection can tell you that. 
What do we mean? Sterling silver rings are popular with women, men... with people all over the world. They love silver because sterling silver looks classy without being ostentatious. They love silver rings (regardless of ring size) because sterling silver jewelry goes with everything. 
We List A Complete Line Of Sterling Silver Rings
No list of sterling silver rings would be complete without a large array of options. No matter your ring size, no matter the setting (including cubic zirconia), we have jewelry appreciated by men, jewelry appreciated by women... really, art of every type. Do you have 925 silver rings on your wish list? Have you added some to a gift list or wedding registry list? No matter what the occasion, we can provide you with gorgeous jewelry appreciated by women, men, and really anyone in your life and on your shopping list.
Look at the reviews for our cubic zirconia rings. Check out the reviews for our other rings. Size matters, after all. We carry a complete array of ring sizes to accommodate anyone who appreciates fine jewelry. The reviews are more important than you might think, too -- because each one represents the genuine opinion of a customer who asked us to help.
925 Silver Rings Are Perfect For Any Occasion
We said that sterling silver makes a statement. That statement is class. It is not too showy, but it isn't underwhelming, either. Sterling silver is just the right blend, accenting and enhancing any outfit. Women, men... jewelry makes anybody look that much more "put together." It gives the eye something to move toward while enhancing the outfit overall. Want to add a little glitter with, say, cubic zirconia? A cubic zirconia setting is an excellent choice because cubic zirconia is affordable but sacrifices nothing in terms of appearance.
The reviews for our rings tell the story: Our customers love them. Each review tells a story: When a customer takes the time to write a review of one of our sterling silver products, she or he wants to share an experience. That experience for both women, men (jewelry aficionados come in all types, after all) speaks to both our service and the quality of our products. When we list a piece of sterling silver, we aren't just listing products; you aren't just a number to us. We're listing something we think will help you look and feel your best.
When we list sterling silver rings, regardless of ring size, we're always concerned with why our customer wants one of our 925 sterling silver pieces. Are those rings in their ring size and on their personal wish list? Are those sterling silver rings on their gift list or wedding registry, to be given to women, men... any sort of special folks in their world? We can't stress enough that sterling silver rings make a great gift... but sterling silver rings are also a fantastic "self-gift" or pick-me-up. Regardless of ring size or setting (including cubic zirconia), we have the sterling silver ring that will make you happy.
Sterling Silver Jewelry and the Women (Men Too) Who Wear It
Men (jewelry isn't just for women) who buy our rings rave about them. Women (men often give jewelry as gifts, but women love to buy jewelry for themselves) can't say enough in about our rings in their reviews, too. The consensus is in: Roma's sterling silver rings are just the right accent for any occasion. These beautiful, durable rings (no matter what your ring size) won't just enhance your look. They'll put a spring in your step as you take pride in your appearance.
Check Out Our List Of Reviews
Roma takes pride in pleasing its customers with our sterling silver rings. No matter what your ring size, no matter who you are, if you want a sterling silver ring, we've got you covered. But you may not know yet that you do want sterling silver. Sterling silver is durable; it is beautiful; it is classy. It's just the right blend for most people and most occasions. Jewelry is prized by men; jewelry is adored by women. The reason for this is that sterling silver makes anyone look great. We think you'll agree.
More Rings Recommendations:
 Frequently Asked Questions
How do you style many rings?
It's best to balance out rings evenly throughout your hands so that you're not wearing too many rings all at once. You also want to space them out on your fingers. If you don't always wear rings, wearing one as a small accessory can help you get used to wearing rings.
Do sterling silver rings last?
If wore all the time, On average, sterling silver rings last between 20-30 years, if well maintained, but If only worn occasionally and properly stored they will last forever.
What kind of silver does not turn green?
It is 925 Sterling silver. 925 silver will never turn your finger green or any other color.
Is it okay for sterling silver to get wet?
The short answer to this question is yes, you can (if you know it's sterling silver). Water generally does not damage sterling silver.
What is meant by sterling silver?
Sterling silver is an alloy of silver containing 92.5% by weight of silver and 7.5% by weight of other metals, usually copper. The sterling silver standard has a minimum millesimal fineness of 925.
What is 925 sterling silver?
The stamp 925 is used to identify genuine sterling silver jewelry, which contains 92.5% silver. Sterling silver is an alloy, or combination of metal types.
Old Price $159.97 $129.99

Old Price $159.97 $129.99

Old Price $69.97 From $39.97

Old Price $69.99 From $44.97

Sold Out
Showing 32 of 32 products