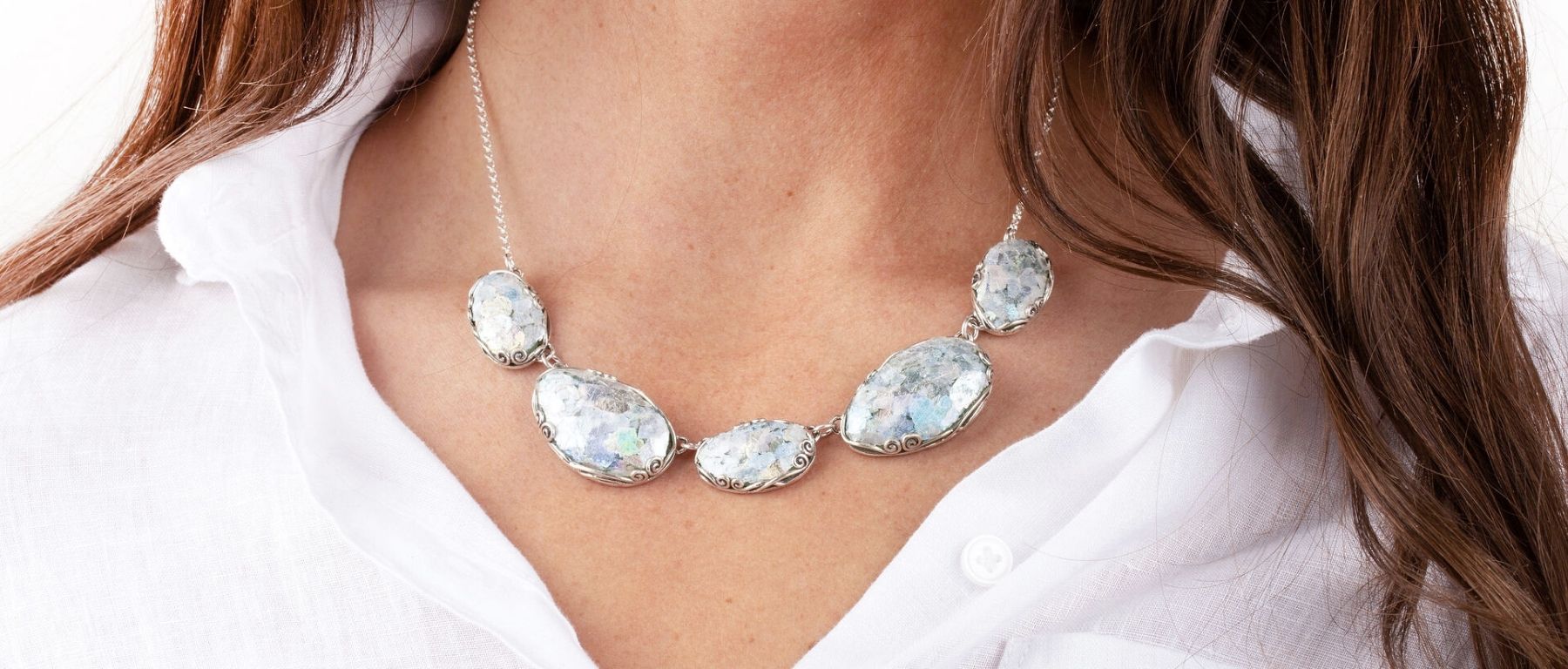 Gorgeous 2000-year-old excavated glass is reborn in the form of Roman Glass Jewelry. This unique jewelry collection is painstakingly handcrafted from premium sterling silver and fragments of ancient glass that have been recovered from archaeological sites in modern-day Israel.
Own a 2000-Year-Old Piece of History. 
If you're looking for something truly unique when it comes to jewelry, we recommend Roman Glass. Roman Glass jewelry brings history to life by setting ancient glass from historic Rome in beautifully complementary sterling silver settings. Roman Glass is unlike any other jewelry you'll wear... because Roman Glass is more than just glass and sterling silver. It is a true piece of history that you can wear as part of your daily style.  
Every outfit is improved by Roman Glass jewelry... and every sterling silver setting, from sterling silver earrings and sterling silver necklaces to other sterling silver pendants and designer jewelry, is elevated by the presence of this historic material. Amaze your friends and make the best impression. Command attention (or blend in as desired) with stylish, classy Roman Glass jewelry. Sterling silver is perfect for any occasion; let Roman Glass jewelry elevate it to the next level.
What Is Roman Glass Jewelry?
Roman Glass Jewelry is made of 2000-year-old Roman Glass that has been excavated from sites around present-day Israel and brought back to life as heirloom-quality jewelry. Each piece of Roman Glass jewelry is a unique and distinctive treasure. The glass is set by hand in the finest sterling silver by talented Israeli artisans. Because Roman Glass is so ancient, each piece varies slightly in texture and appearance, making every piece of Roman Glass jewelry unique and special.
Roman Glass Is Perfect For Every Occasion
When you wear jewelry, you do so to make a statement. You put your best foot forward, presenting your best look, your personal style, to the people around you. No matter what the occasion, Roman Glass can enhance your look. It's stylish and understated, but somehow bold and dynamic at the same time. It's certainly beautiful, yes, but Roman Glass is beautiful in a different way every time. The texture and the color vary with each historic piece, making Roman Glass jewelry an exercise in beauty and personal expression.
No two pieces of Roman Glass are exactly identical, so no two pieces of sterling silver Roman Glass jewelry are identical. Whether your Roman Glass is set in a necklace, in earrings, in a bracelet, or in something else, these are accessories that speak to the human connection in all of us. Every human being longs for a sense of history, a sense of being linked to what has come before. Roman Glass does that. When you can wear a piece of sterling silver jewelry that incorporates a beautiful piece of 2,000-year-old glass, you realize you are living in an extraordinary time. Roman Glass Jewelry is just that amazing.
Roman Glass Is Historic And Unique
There are few other accessories that link you directly to the past of 2,000 years ago the way Roman Glass jewelry can. Whenever you step out on the town in these pieces, you are making a bold statement about who you are and where you want to be. You are moving forward in style, and you are making it clear that you understand the finer things in life. But the best part is that while Roman Glass is truly historic and unique, it is also affordable. Almost anyone can accessorize with Roman Glass and show that their sense of style incorporates a sense of history.
Imagine how unique each piece of Roman Glass truly is. Regardless of the sterling silver setting, that piece of glass jewelry is unlike any other piece of glass, even if it is similar in size, shape, and color. The exact color, the exact texture of every piece of jewelry is dictated by the unique circumstances under which it was excavated. This makes your sterling silver Roman Glass jewelry some of the most unique jewelry you will ever wear. Whether it's an earring, a pendant or necklace, a bracelet, or some other piece of jewelry, your connection to ancient Rome will make a bold statement about your style.
And yet, while each historic and unique piece of Roman Glass jewelry is bold... Roman Glass is also subtle. This is another of the unique qualities of Roman Glass because Roman Glass can be as understated as you need it to be. It truly goes with any outfit and elevates your appearance to the next level. You can let it take center stage, or you can use it for accents. No matter what you need it to do, your Roman Glass will hold its own. We think it will quickly become some of your favorite accessories, adding just the right look to any outfit for any occasion.
Are you ready to embrace this style, this history, of Roman Glass jewelry? Then you're ready for the beauty and splendor of the ancient Romans, in a subtle but tasteful setting that brings out the best of the glass. Not only will your Roman Glass look beautiful, but this jewelry will make YOU look your best. That is the extraordinary quality of Roman Glass, and that is its promise.
Old Price $49.99 From $39.99

Old Price $149.97 $114.99

Old Price $189.99 From $149.99

Old Price $159.99 From $129.99

Old Price $49.99 From $39.99

Old Price $129.99 From $99.99

Old Price $149.98 From $99.99

Old Price $189.99 From $159.99

Old Price $199.99 From $159.99

Old Price $159.99 $109.99

FINAL SALE

Old Price $389.99 $189.97

FINAL SALE

Old Price $199.99 $104.97

Old Price $79.99 From $69.99

Old Price $119.99 From $89.99

Old Price $199.97 $159.99
Showing 25 of 25 products