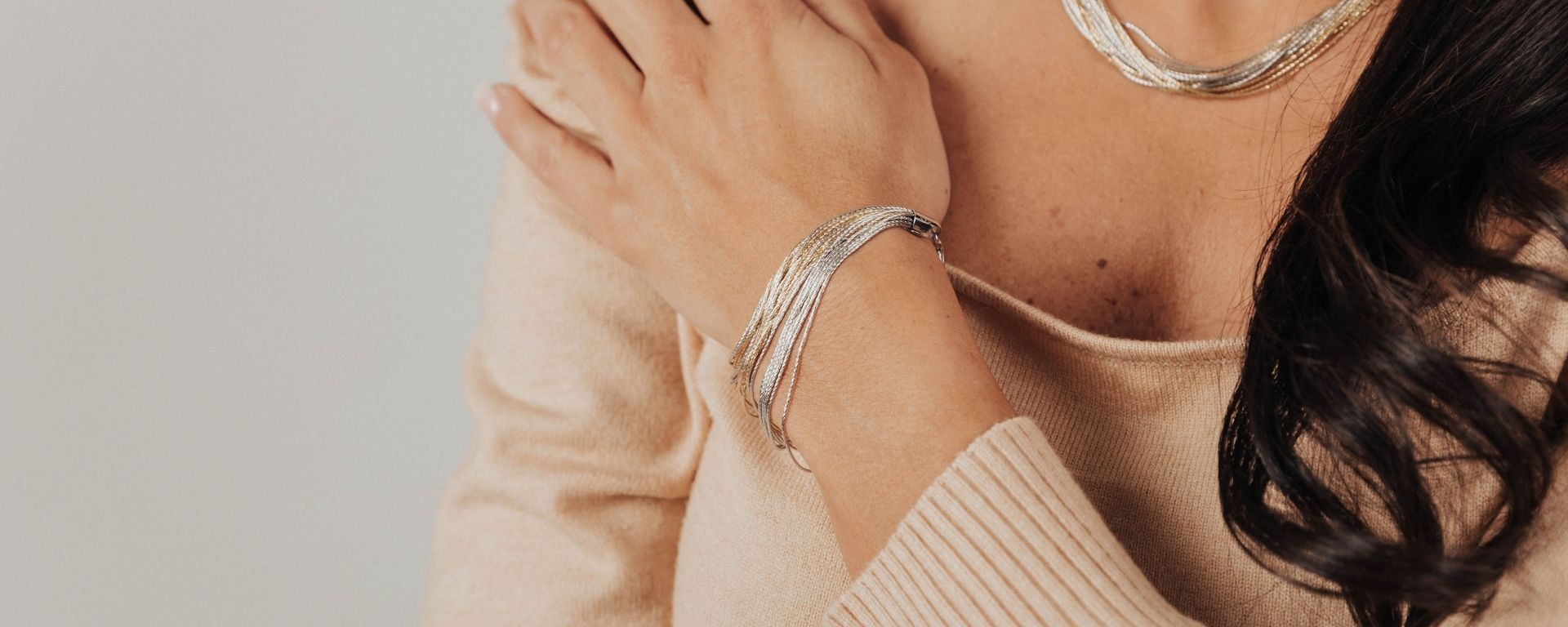 Roma's commitment to style and service makes us the leading supplier of stunning handcrafted bracelets for women. Shop our collection today to discover why thousands of women trust us to secure world-class jewelry for a fraction of the price. 
Affordable Luxury, Effortless Beauty 
Wearing designer jewelry doesn't have to break the bank. Our team of fashion-forward value maximizers believes that everybody deserves the opportunity to invest in luxury jewelry, no matter their budget. 
We put careful work into curating a collection that reflects our values of clarity, timelessness, and individuality. No matter your unique style or price point, Roma has silver bracelets and gold rope bracelets you won't be able to resist. 
The Roma Designer Difference 
Roma Designer Jewelry identified a crucial gap in the jewelry distributor industry. Before we incorporated, consumers had to make a thankless choice: either spend their savings for a piece of quality jewelry or save money but receive a flimsy, poorly-produced piece. 
The days of this decision are done. Roma gives you an unmatched blend of quality and value. Here's how we do it: 
We eliminate the middleman by selling directly to you. This means a low overhead for us and premium prices for you. 
Most modern jewelry is mass-produced, rolling off assembly lines and into your hands at a reduced quality. Not Roma. All of our bracelets for women are authentic and elegant. 
We have cultivated relationships with artists from Italy to Brazil. The result? Access to exclusive designs that redefine artistry. 
Timeless Silver and Gold Bracelets For Women 
The best designs withstand the test of time. When you invest in a handcrafted silver chain bracelet or bangle bracelet from Roma Designer Jewelry, you invest in a piece for life. 
Pass your purchase on as an heirloom or resell it later in life. Our commitment to choosing ageless pieces ensures your Roma bracelets will be desired by discerning jewelry collectors for years to come. 
Browse our inventory and find everything from dainty silver chain bracelets to statement Byzantine-inspired designs. 
The Design Is In The Details 
Our relationships with cutting-edge craftsmen from every corner of the world allow us to offer an inventory unrivaled in the industry. Whether you're a risk-taker or consecrated to classic designs, you'll be pleased to find affordable luxury bracelets brought to life with materials such as: 
Abalone & Coral
Swarovski Crystals
Turquoise 
Rose Gold 
South Sea and Freshwater Pearls 
Amethyst 
And Much, Much More! 

 Shop Bracelets For Women Now 
Upgrade your jewelry collection with luxurious wearable art that doesn't cut corners for affordability. When you invest in Roma bracelets, you invest in deserving artisans from around the world and yourself. 
Purchase a bracelet from our selection above and we will ship it out today!

Old Price $199.99 $139.97

Old Price $259.99 $179.97

Old Price $189.99 $119.97

Old Price $249.99 $129.97

Old Price $169.99 $109.97

Old Price $299.99 $149.97

Old Price $169.99 $109.97
Showing 29 of 29 products