Roman Glass Small Round Earrings in Sterling
Old Price $99.99 $79.99
Beautiful Patina on these Roman Glass earrings catches the light, creating a stunning display of color. The patina on this piece was developed over 2000 years. With genuine Roman Glass expertly set in sterling silver, these earrings are sure to be a treasured addition to any jewelry collection. 
PRODUCT DETAILS
Drop Length (including hook): 1" 
Glass Diameter: 1/2"
Earring Closure: Hook
Metal: Sterling Silver
Origin: Made in Israel
Other: Includes Certificate of Authenticity
Ancient 2000-year-old glass has been excavated from sites around Israel and brought back to life as heirloom-quality jewelry.
The glass used is a broken fragment of what was once a household cup, plate, or temple vessel.
Roman Glass Jewelry is a unique and distinctive treasure. The ancient glass fragments are set by hand in the finest sterling silver by talented Israeli artisans. 
Certificate of Authenticity included with every piece. 
*Due to the ancient origins of Roman Glass, pieces may vary slightly in texture and appearance. 
FAST SHIPPING | FREE OVER $100
Every order ships from our U.S. warehouse and features hassle-free returns through our self-service online returns portal.
- Free standard U.S. shipping over $100
- Low $5.99 flat rate on all other orders
- Standard delivery time 5-7 business days*
- Expedited delivery time 3-5 business days*
We're here to help Mon-Fri | 9am to 5pm MST at 1-888-886-7708 or email support@romadesignerjewelry.com
*Shipping times are unpredictable and largely out of our control, unfortunately. Please place your order well in advance of the desired arrival date for the best possible shipping outcomes.
Ships fast from U.S.A
Free shipping over $100
Made with love in Italy
2000-YEAR-OLD GLASS REBORN
The ancient excavated glass shards used in this unique jewelry collection began life as a household vase, water jug, or temple vessel.
EXPLORE THE ROMAN GLASS COLLECTION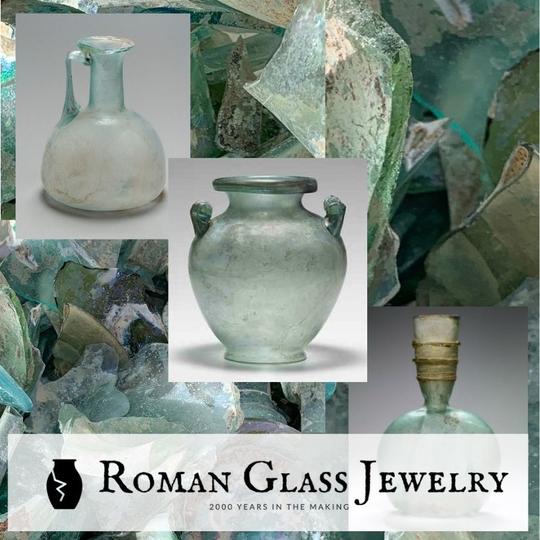 2000-YEAR-OLD EXCAVATED GLASS
The Romans established ancient glass-making centers in and around Jerusalem because of the abundance of resources (sand) and skilled labor.
The excavated glass pieces used in this unique jewelry collection began life as a household vase, water jug, or temple vessel.
The items belonged to real, living, breathing human beings - who lived their lives in and around Jerusalem 2000 years ago at the time of Jesus Christ and the reign of the Roman Empire.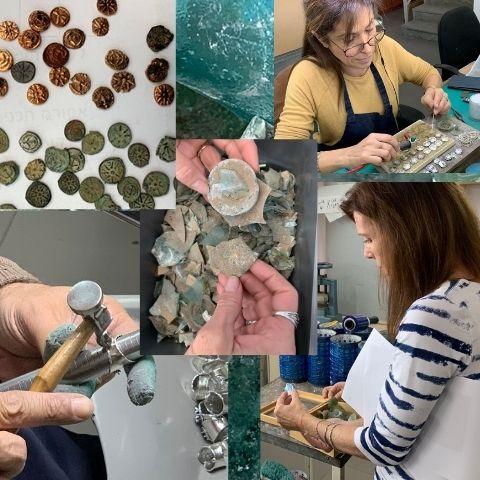 REBORN AS GORGEOUS JEWELRY
Rarely, unbroken vases, jugs, plates and temple vessels are excavated and displayed in museums or auctioned to antiquities collectors.
More commonly, though, the glass is discovered in broken shards. Instead of being discarded as useless, we take the broken fragments and they are carefully cataloged, meticulously cleaned, and reborn as meaningful and unique jewelry.
Ancient coins (mites) are also unearthed and given new life as "widow's mite" pieces in our collection.
*Certificate of Authenticity included
Total 5 star reviews: 21
Total 4 star reviews: 3
Total 3 star reviews: 0
Total 2 star reviews: 0
Total 1 star reviews: 0
100%
would recommend this product
Quality
Rated 5.0 on a scale of 1 to 5
Value
Rated 5.0 on a scale of 1 to 5
Beautiful style

These earrings are simply beautiful. Not over embellished, they will go with whatever you are wearing. The Roman Glass is stunning in its multi colored beauty. And knowing that you are wearing a piece of history makes them even more special.

Beautiful but …

Th earrings met all my expectations but wish they had come with plastic safety pieces so I would never lose them. The pieces of glass were not cut completely rounded so there is a gap in one of them from the frame. Little inconsistencies, but still very beautiful earrings.

Roman Glass Small Round Earrings in Sterling

Very pretty. Will go with lots of outfits!

Ms.

One of my best friends gave me these earrings and commented "I can't believe ROMA has

the most beautiful jewelry which I'm giving to you; and I don't even own any of it yet". So guess what? I'm giving her the same beautiful Roman Glass small round earrings for Christmas. She's going to love them!

Beautiful

Generally I prefer larger earrings but since I have the matching cross I got these and it is really a beautiful set.

Perfect size

I'm giving these to a friend who literally has everything, but these. Her taste is impeccable and I know she'll be impressed with the quality and craftsmanship of these!

Roman Glass Small Round Earrings

Just as I expected from Roma. Excellent quality, pretty glass and perfect size!

Karen T.

Verified Buyer

Love the colors

I really like these earrings, they have a lot of colors in them and will go with many outfits. I'm a little nervous about trying to keep them dry all the time. Other than that these are wonderful.

I bought a pair for my daughter for Christmas. I like the uniqueness and I like the history that goes with it.

Norma G.

Verified Buyer

Love these little pieces of history!!

I love this Roman Glass jewelry. Earrings are great! Love wearing this little piece of history!!

Kathleen B.

Verified Buyer

Beautiful Earrings

I bought these as a Birthday gift for a dear friend. They came in lovely black bag. The earrings were exactly as displayed on the website. The Toman glass was very colorful yet subdued. My friend loved her gift!
Reviews Loaded
Reviews Added