Roman Glass Patina Cross Pendant in Hammered Sterling Silver
Old Price $49.99 $39.99
LIMITED EDITION COLLECTOR'S PIECE
Excavated just outside of Jerusalem, the glass featured on this stunning silver cross was in use at the time of Christ in the heart of the Holy Land. 
This unique cross carries not only deep spiritual significance but outstanding historical significance as well.
With a direct tie to the Holy Land at the time of Christ, this limited-edition cross is sure to be a treasured addition to any jewelry collection.
*available as a pendant alone or with 24" Italian Sterling Silver Milano Twist Adjustable Chain
PRODUCT DETAILS
Pendant Size: 1 5/8" H x 7/8" W (including bail)
Glass Size: 3/8" diameter, 1/8" thick
Glass: Ancient Roman Glass
Metal: .925 Sterling Silver
Origin:

 Made in Israel

Option: Available as pendant alone or with adjustable Chain


Ancient 2000-year-old glass has been excavated from sites around Israel and brought back to life as heirloom-quality jewelry.
The glass used is a broken fragment of what was once a household cup, plate, or temple vessel.
Roman Glass Jewelry is a unique and distinctive treasure. The ancient glass fragments are set by hand in the finest sterling silver by talented Israeli artisans. 
Certificate of Authenticity included with every piece. 
*Due to the ancient origins of Roman Glass, pieces may vary slightly in texture and appearance. 
FAST SHIPPING | FREE OVER $100
Every order ships from our U.S. warehouse and features hassle-free returns through our self-service online returns portal.
- Free standard U.S. shipping over $100
- Low $5.99 flat rate on all other orders
- Standard delivery time 5-7 business days*
- Expedited delivery time 3-5 business days*
We're here to help Mon-Fri | 9am to 5pm MST at 1-888-886-7708 or email support@romadesignerjewelry.com
*Shipping times are unpredictable and largely out of our control, unfortunately. Please place your order well in advance of the desired arrival date for the best possible shipping outcomes.
Ships fast from U.S.A
Free shipping over $100
Made with love in Italy
2000-YEAR-OLD GLASS REBORN
The ancient excavated glass shards used in this unique jewelry collection began life as a household vase, water jug, or temple vessel.
EXPLORE THE ROMAN GLASS COLLECTION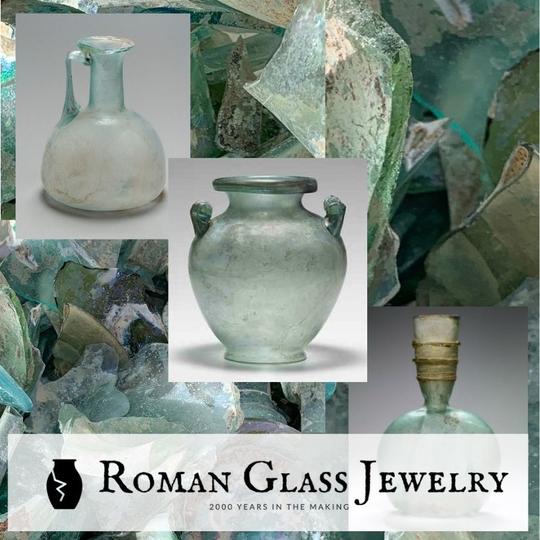 2000-YEAR-OLD EXCAVATED GLASS
The Romans established ancient glass-making centers in and around Jerusalem because of the abundance of resources (sand) and skilled labor.
The excavated glass pieces used in this unique jewelry collection began life as a household vase, water jug, or temple vessel.
The items belonged to real, living, breathing human beings - who lived their lives in and around Jerusalem 2000 years ago at the time of Jesus Christ and the reign of the Roman Empire.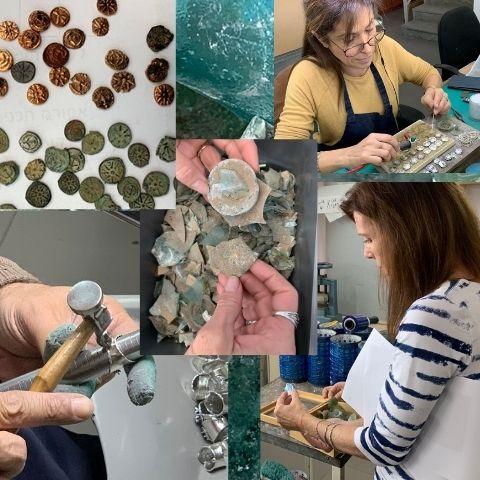 REBORN AS GORGEOUS JEWELRY
Rarely, unbroken vases, jugs, plates and temple vessels are excavated and displayed in museums or auctioned to antiquities collectors.
More commonly, though, the glass is discovered in broken shards. Instead of being discarded as useless, we take the broken fragments and they are carefully cataloged, meticulously cleaned, and reborn as meaningful and unique jewelry.
Ancient coins (mites) are also unearthed and given new life as "widow's mite" pieces in our collection.
*Certificate of Authenticity included
Total 5 star reviews: 611
Total 4 star reviews: 31
Total 3 star reviews: 2
Total 2 star reviews: 0
Total 1 star reviews: 1
100%
would recommend this product
Quality
Rated 4.9 on a scale of 1 to 5
Value
Rated 4.9 on a scale of 1 to 5
Lots of compliments

People are telling me how nice my cross is! I put on 24" adjustable chain and very happy with purchase !

Absolutely gorgeous!

I am so happy I purchased the Roman Glass Patina Cross Pendant. It is beautiful and the quality is fantastic! I have received many compliments. I am very proud to wear such a beautiful piece of jewelry.

It is beautiful

Very well made. I bought two!

Unique

I haven't worn a cross in years but when I saw this piece advertised, it looked so unique I had to get it. I'm so glad I did because it is absolutely beautiful.

I love this piece!

It such a dainty, but strong chain and pendant!

Very beautiful!

My favorite is the fact you can choose the length to wear. Thank you for an exquisite piece, to be cherished for life!

Beautiful!

The chain and pendant are exquisite! Very well made and definitely a stand out piece. The adjustable chain is a game changer! I'm glad I ordered it!

Beautiful!!

This Roman Glass Cross is very shiny, the glass has beautiful colors and I like it very much. The only thing I would change is the weight, it's on the lighter side and I would prefer it were sturdier. I'm very happy with my purchase and I'm waiting on a new chain to enjoy wearing this piece.

Roman glass patina cross

I love it!! The quality is just great!! I love my chain I ordered a few months ago too. Thanks so much for this beautiful cross!!

Roman Glass Necklace

It is beautiful and I received it in just a few days.
Reviews Loaded
Reviews Added