Authentic Widow's Mite Nested Pendant in .925 Sterling Silver
Old Price $159.99 $129.99
"And there came a certain poor widow, and she threw in two mites..." - Mark 12:42
This beloved Biblical story becomes real with the gift of a genuine restored mite that existed 2000 years ago in ancient Israel. 
Perfect for the woman in your life who "giveth all she hath"
WIDOW'S MITE DETAILS
This genuine mite has been cleaned and restored after excavation. 
Widow's Mite - Jewish Bronze Coin
From archeological excavations, we know that the vast majority of bronze coins circulating in Jerusalem in the lifetime of Jesus were the Jewish leptons of prutot, minted from the time of the Maccabean kings, until Pontius Pilate.
Any small, Jewish, bronze coin struck before the crucifixion can be legitimately called a "widow's mite."
*Due to the ancient origins of excavated mites, pieces will vary in look, texture, shape, size, and details. The mites are treated with the utmost care to preserve the natural look. There are no guarantees any designs will be strongly visible due to the limited equipment the Romans had access to over 2,000 years ago, and being buried for that amount of time.
PRODUCT DETAILS
Diameter: 3/4"
Material: Authentic Roman Coin
Metal:

 

.925 Sterling Silver
Origin: Made in Israel
Other: Includes

 

Certificate of Authenticity
Available as pendant alone or with 20" Italian Liscia Snake Adjustable Chain.
Ancient 2000-year-old glass has been excavated from sites around Israel and brought back to life as heirloom-quality jewelry.
The glass used is a broken fragment of what was once a household cup, plate, or temple vessel.
Roman Glass Jewelry is a unique and distinctive treasure. The ancient glass fragments are set by hand in the finest sterling silver by talented Israeli artisans. 
Certificate of Authenticity included with every piece. 
*Due to the ancient origins of Roman Glass, pieces may vary slightly in texture and appearance. 
FAST SHIPPING | FREE OVER $100
Every order ships from our U.S. warehouse and features hassle-free returns through our self-service online returns portal.
- Free standard U.S. shipping over $100
- Low $5.99 flat rate on all other orders
- Standard delivery time 5-7 business days*
- Expedited delivery time 3-5 business days*
We're here to help Mon-Fri | 9am to 5pm MST at 1-888-886-7708 or email support@romadesignerjewelry.com
*Shipping times are unpredictable and largely out of our control, unfortunately. Please place your order well in advance of the desired arrival date for the best possible shipping outcomes.
Ships fast from U.S.A
Free shipping over $100
Made with love in Italy
2000-YEAR-OLD GLASS REBORN
The ancient excavated glass shards used in this unique jewelry collection began life as a household vase, water jug, or temple vessel.
EXPLORE THE ROMAN GLASS COLLECTION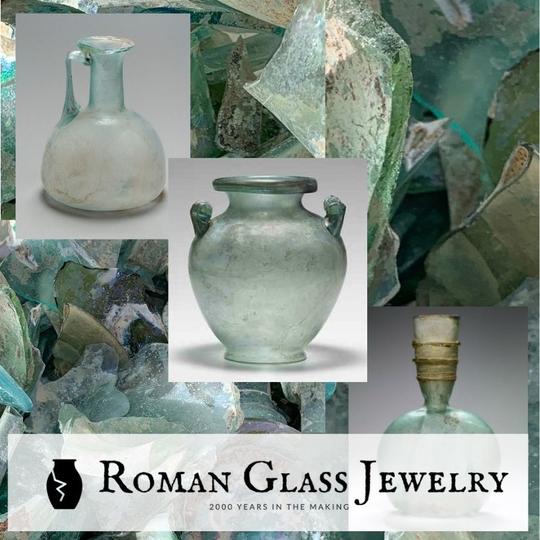 2000-YEAR-OLD EXCAVATED GLASS
The Romans established ancient glass-making centers in and around Jerusalem because of the abundance of resources (sand) and skilled labor.
The excavated glass pieces used in this unique jewelry collection began life as a household vase, water jug, or temple vessel.
The items belonged to real, living, breathing human beings - who lived their lives in and around Jerusalem 2000 years ago at the time of Jesus Christ and the reign of the Roman Empire.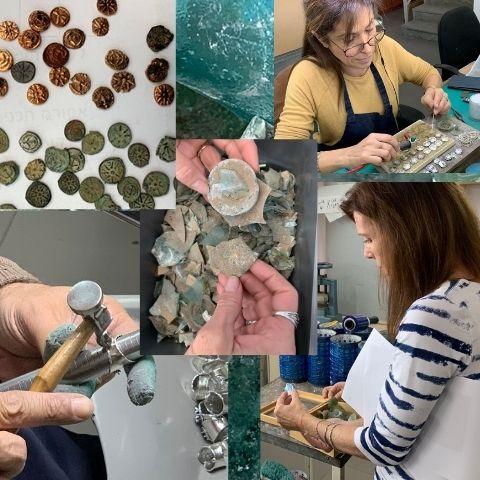 REBORN AS GORGEOUS JEWELRY
Rarely, unbroken vases, jugs, plates and temple vessels are excavated and displayed in museums or auctioned to antiquities collectors.
More commonly, though, the glass is discovered in broken shards. Instead of being discarded as useless, we take the broken fragments and they are carefully cataloged, meticulously cleaned, and reborn as meaningful and unique jewelry.
Ancient coins (mites) are also unearthed and given new life as "widow's mite" pieces in our collection.
*Certificate of Authenticity included
Total 5 star reviews: 60
Total 4 star reviews: 0
Total 3 star reviews: 0
Total 2 star reviews: 0
Total 1 star reviews: 0
100%
would recommend this product
Quality
Rated 4.8 on a scale of 1 to 5
Value
Rated 4.8 on a scale of 1 to 5
Darrrell I.

Verified Buyer

Beautiful gift for my wife

I'm giving it to my wife for her birthday in 6 days. We were scheduled to visit Israel with our church group, but due to the unfortunate circumstances we had to cancel. This is one of the items she was wanting to bring home with her.

Awesome

Very nice, just what I was looking for.

It's beautiful and something to really have.

It's Authentic and pretty impressive to bible people. The story. The widow gave the 2mites and someone complained but Jesus said she did a great thing she gave much because she gave all she has.

My Aunt's Birthday

I purchased for my mom and she LOVES it. Purchased one for my aunts birthday and I can't wait to see what she thinks..

Amazing

Ordered for my Mom as she was raised in a very Catholic household and she absolutely loved it. When I asked what she loved the most, she said with tears in her eyes, she loved the history and incredible symbolism that she could wear no close to her heart. Thank you so very much for offering this incredible pendant.

Widows Mite

I love this piece,to actually have a authentic piece of history is amazing. I have received many compliments on it. Love Roma!

B

BarbaraJean

Verified Buyer

SO very special! Bronze coin goes great with rose gold jewelry too!

This necklace has so much, not only in the meaning of it, what it represents, the widow that gave all she had to God. It is beautiful and much larger than I was expecting. I did an IG post on it and added the video here to share my thoughts with you.

This pendant is stunning!

I bought this pendant for my office manager who will be moving on to bigger and better things for herself! I am so proud of her and I know she is absolutely going to love this!

Absolutely loved it.

I bought one for my daughter for Easter. Her faith is being tested and I wanted to encourage her to be strong. When it arrived I loved it so much I bought myself one. Mine will be passed on to my other daughter one day.

So Beautiful!!!

To think that this was used in the time of Christ just makes me stop and pause. What a wonder. It's a truly beautiful pendant; one that is a conversation starter. I feel so blessed to be able to own a rich piece of the past.
Reviews Loaded
Reviews Added