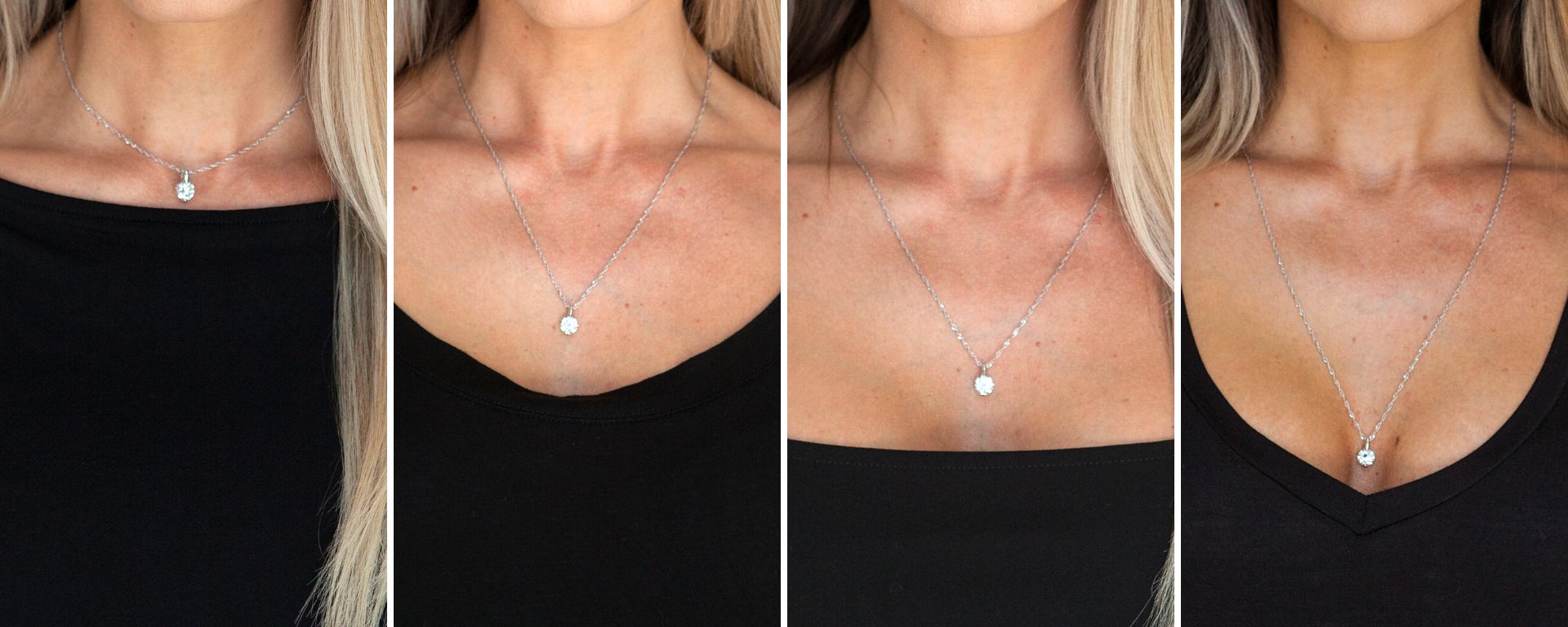 Premium-Quality Italian Adjustable Chains
Always the Perfect Length™ Our Italian-made 🇮🇹 adjustable chains provide the PERFECT fit and endless possibilities for any neckline, outfit, or occasion! Featuring a patented adjusting gasket and the finest workmanship in sterling silver, gold, and rose gold. 
Explore all of our different adjustable chain lengths and styles today!
Adjustable Gold Chains So Jewelry Always Fits Perfectly
Enjoy affordable designer jewelry that is the perfect length for any outfit. Our luxury Italian silver, rose gold, and the adjustable gold chain will adjust quickly and easily to perfectly accent any ensemble. Let your pendant hang exactly where you want it and never struggle to match your clothing and jewelry again. 
Always the Perfect Fit
Have you ever struggled to combine your favorite jewelry with your favorite clothes? Different necklines require different length necklaces in order to complement each other perfectly.
For example, wearing a long chain with a high neckline means that the pendant gets lost against your clothing and can even catch and snag on the fabric. Turn your adjustable length necklace into a choker to remedy this problem.
The reverse is also true. A short choker or even a middle-length necklace looks odd with a plunging neckline. Lengthen your adjustable gold chain until the pendant sits perfectly just above (or between) your décolletage. Simple, sexy, and stunning!
Affordable Luxury
Roma Designer Jewelry is proud to offer fine Italian adjustable length necklaces, bracelets, and anklets at affordable prices. We believe that everyone deserves to wear gorgeous jewelry and scoff at the idea of the common 10-20 times markup that many jewelry brands use. We cut out the middlemen and fancy (expensive) showrooms, and bring you quality jewelry direct from the designers and artisans.  
Our premium jewelry is simple yet elegant and is the perfect complement to everyday clothes as well as dressing up for a night on the town. 
We offer a gorgeous 2.0 carat CZ pendant to complement your adjustable chain. It might not be a real diamond, but it shines brilliantly and offers an affordable, timeless look. The best part is that you can feel comfortable wearing it daily and not have to worry about losing it. Want to get colorful? Choose one of our Swarovski crystal birthstone pendants.
Various Chain Styles to Choose From
Our adjustable length chains are available in several styles. Choose from Italian Milano twist, Popcorn Bombe, heavy twist, heavy snake, Venezia box chains, and more! 
Necklace chains are 24" long. We also offer an adjustable anklet that adjusts from 8" to 11" and adjustable bracelets that go up to 10".  
Three Types of Metal
You have the choice of three different types of metal for your adjustable chain — sterling silver, 18k gold, and rose gold. All sterling silver chains are finished with Rhodium to avoid that nasty tarnishing that often happens to silver jewelry. We also use sterling silver coated with 18k gold or rose gold for affordable gold styles. For those that prefer the real deal, you can also choose our 100% solid gold adjustable chains.
Shop All of Our Adjustable Length Chains
Don't ever feel boxed in by your jewelry again! With silver adjustable necklaces, adjustable gold chain necklaces, bracelets, and anklets, your jewelry will always be the perfect fit. 
4.9

Stars

(9,860 Reviews)

Old Price $66.99 From $39.99

4.9

Stars

(9,860 Reviews)

Old Price $66.99 From $39.99

4.9

Stars

(9,860 Reviews)

Old Price $133.99 $74.99

4.9

Stars

(9,860 Reviews)

Old Price $133.99 $74.99

4.9

Stars

(9,860 Reviews)

Old Price $199.97 $109.99

4.9

Stars

(9,860 Reviews)

Old Price $66.99 From $39.99

5.0

Stars

(1,018 Reviews)

Old Price $99.99 $59.99

5.0

Stars

(1,018 Reviews)

Old Price $99.99 $59.99

5.0

Stars

(1,018 Reviews)

Old Price $99.99 $59.99

5.0

Stars

(1,018 Reviews)

Old Price $109.98 $99.99
Showing 41 of 41 products