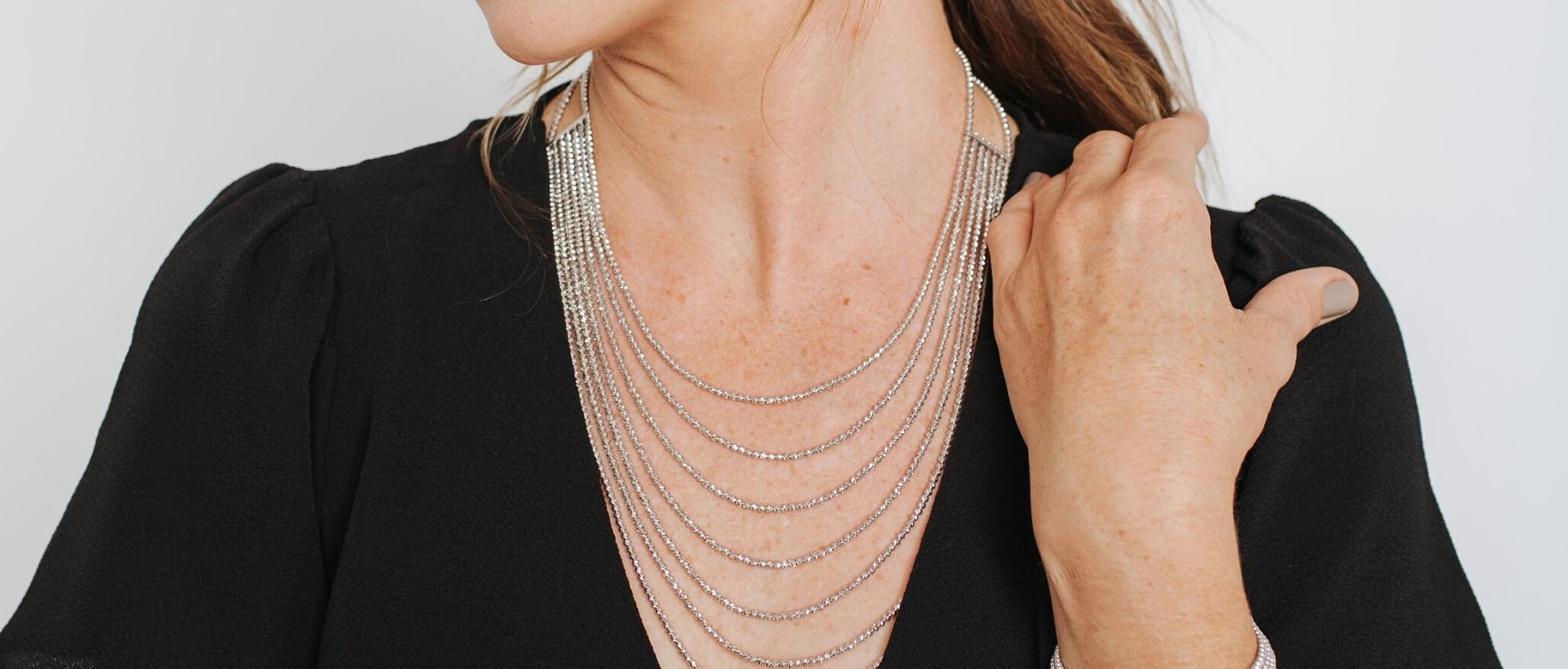 925 Silver Necklace
On a list of classy jewelry, nothing speaks more highly than a 925 Silver Necklace. 925 Silver necklaces and chains make women, men... really anyone look and feel their best. 925 sterling silver necklaces and chains are a thing of beauty (and durable, too). 
Sterling silver is 92.5% silver combined with other metal (mostly copper). Silver necklaces and chains add beauty and style to any outfit. Suitable for women, men... it doesn't matter why you want a sterling silver necklace. We can help. We list our sterling silver at competitive prices. Our genuine sterling chains and genuine sterling necklaces are legitimately pieces of art that women (men too) will adore.
What is a necklace? What is jewelry? It exists to make the women, men... the people wearing it...  look their best. Look at anybody's wish list, gift list, or wedding registry. The right chain or necklace, the right piece of sterling silver, makes a classy statement. You'll find some on many a wish list, in other words. Sterling silver is neither ostentatious nor falsely modest. In fact, sterling silver conveys just the right amount of "flash and class."
Silver Necklaces From Roma Are Perfect For Any Occasion
At Roma Jewelry, we list a complete line of sterling silver necklaces, sterling silver chains, and sterling silver pendant jewelry. We spend each day shipping these chains, shipping these necklaces, and shipping other beauty enhancing pieces each day.) Any of our chains, necklaces, or other pieces will make a superb addition to your collection. From a wish list to a gift list to a wedding registry, for casual wear and formal occasions... we make sure all our sterling silver jewelry is genuine. The reviews for our products tell the story. 
Speaking of reviews, let's look at the word "reviews" from a non-Internet perspective. Roma reviews the craftsmanship of each piece we ship. Roma also reviews the packing and shipping. But that leads us back to Internet reviews -- to the customer reviews that tell our story. Every piece of sterling silver we list will please deserving women... men... and anyone you hope to delight. But don't just rely on reviews. Find out for yourself. Treat yourself with the beauty of our sterling jewelry and enjoy our fast shipping.
Suitable For Any Reviews List, Wish List, Or Gift List / Registry 
In a world of wish lists and gift lists, wedding registry lists, and other lists of "wants," someone you know wants sterling silver jewelry. Sterling silver makes so many people happy. Women (men too) care about the impression they make. Sterling silver necklaces and sterling silver chains go with almost everything. Is sterling silver on your wish list? Do you peruse sterling silver reviews, looking for just the right chain or necklace?
Do you want the durability and beauty of sterling silver? We can help. Check our reviews. We take pride in our shipping policies and shipping speeds. We list only the finest sterling necklaces and sterling chains. But no list of sterling silver is complete if its sterling chains and sterling silver necklaces don't have both beauty and style.  Every 925 Silver necklace and chain we list has that and more.
Reviews For Our 925 Silver Necklaces  Show Our Quality
The online world is a list of reviews, reviews, and more reviews. A company with a long list of great product reviews and long list of excellent service reviews can go far. Our customer reviews rave about the beauty and craftsmanship of our sterling silver jewelry. 
We're pleased to be shipping our beautiful sterling silver jewelry to as wide an audience as possible. The chains, necklaces, and pendants we provide are beauty personified. Honestly, the list of reviews for our sterling silver pieces for women, men, and anyone who likes to look and feel their best is more than just opinions. It's more than a list of feedback. These reviews are a guide to improving each necklace and chain we're shipping every day. 
You've come looking for beautiful sterling silver jewelry, yes. Every chain or necklace you buy from us can hold its own.  But most of all, we care about beauty. Every day, we're shipping products that are loved by women; men enjoy them too. Every list of fine jewelry providers, and every list of fine jewelry, should include Roma's sterling silver. Do you have a sterling silver wish list? Is it a list of gifts you want to give... or receive?
Let Us Help You Find The Right Piece Today
What is beauty? Is beauty a sterling silver necklace? Is beauty a sterling silver chain? Is it reviews that rave about our fast shipping? Is it reviews that speak to the beauty of these products? When we list a piece of sterling silver jewelry, what is our goal? 
Well, every time we list a sterling silver necklace or a sterling silver chain, we aren't just hoping for your positive reviews. We want your total satisfaction. Every day, we're shipping gorgeous and tasteful necklaces, chains, and pendant jewelry to countless customers... but we do it because we care. We want you to find the right piece of sterling silver jewelry for you. 
The beauty of any of these pieces is what makes them fine additions to your personal collection... or fine gifts for any wish list or wedding registry. Invest in beauty today by putting one of these gorgeous items on your list and in your cart. You won't be sorry!
Old Price $399.99 $249.97

Old Price $219.99 $139.97

Old Price $299.99 $199.97

Old Price $224.99 From $169.97

Old Price $299.99 $139.97

Old Price $199.99 $129.97

Old Price $199.99 $129.97

Old Price $199.99 $129.97
Showing 25 of 25 products